Custom Jewelry
Please call ahead for a private appointment @ 716-856-7599! Looking for something special and you just can't find it anywhere?
CLICK HERE to visit Melting Point Google Reviews.
1. We Discuss Your Idea.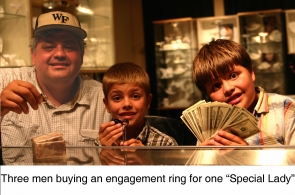 The entire custom process takes 6 to 8 weeks, starting from the original drawings and the model creation to the complete production of the final piece. Please plan for at least three appointments with us. First you will review the design sketch and then the wax model before your design is cast into metal.
We begin by discussing your idea and defining your budget. We ask important questions to learn about your individual design preferences and expectations. Some people have more active lifestyles or careers that can be tough on their jewelry. In cases like this durability and very solid construction will be required. Some are a slave to fashion and prefer beauty and drama over functionality. Either way, we will explain the pros and cons of each design decision in detail before proceeding.
We truly love this part of the job. This is the time when all ideas are considered. Collaboration and creativity are our passion! Each customer provides a new inspiration to the design process. The goal is to build the personality of each customer into their design. A heirloom created from the heart is always more meaningful to wear.
Please note that we always try to save you money. If your idea can best be served by modifying an existing design from our inventory we will suggest this, because it will save us time and you money. After your free design consultation, a quote will be provided after we have a clear idea of what you are looking for. We will always try to respect your budget when designing your ring and build the best product in the most affordable way.
2. We Create a Computer Generated or Hand Drawn Rendering of the Best Idea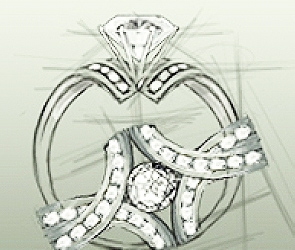 After discussing your concept we begin to put down our ideas on paper to refine them further. This is a very important part of the process, because the specifications of this sketch will be used to create the three dimensional wax model. Now is the time to ask all the important questions. All details are reviewed and defined. The model created from this drawing will eventually be cast into the piece of jewelry.
We make every effort to answer all your questions and no concerns are over looked. Once we are confident that you understand how your design idea will be constructed we are ready to move forward to the carving a three dimensional model of your design. At this point a 50% non refundable deposit is required. You will sign off on the drawing specifications and we will begin carving the model.
Because much time and labor goes into creating this model, we can not refund the deposit fee. We will not recommend moving forward with the custom design process unless you are comfortable taking this next step.
3. Viewing the Jewelry Model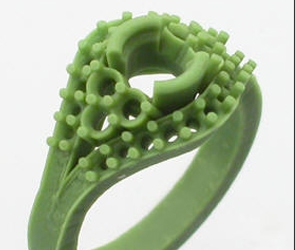 After the model is created we present it to you and evaluate the model against the original drawings. At this point you have the final opportunity to fine tune the design and make any necessary refinements. If adjustments are needed we will review the model one last time before casting into the precious metal of your choice.
You will be amazed to see your sketch come to life! Quite often the design becomes even better. Our many years of experience have showed us that seeing the idea in the third dimension often provides the opportunity to make the original idea even better!
At this point, it is hard to contain the excitement of seeing the finished masterpiece. All the effort has paid off and your inspiration is about to become a beautiful reality!
4. Casting the Model Into Metal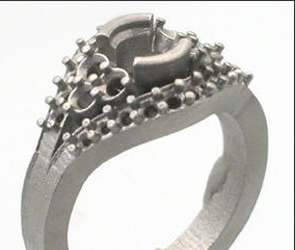 In most cases the ring is cast through vacuum casting process. The wax model is invested in a plaster investment and the wax is burned out in a furnace. A negative space is left in the investment which is the exact shape of the original model. The molten metal is then vacuumed into this impression.
The metal cools slowly and is broken out of the investment. Voila! Your design is revealed and the settlings are carefully polished and adjusted to be set with the gems or diamonds you have chosen.
In some cases metal fabrication is used rather than the casting process. Many times fabricated heads are soldered in place that will be used to set the gems.
This is when experience and attention to detail is critical. Many designs require hand wrought finishes or textures to enhance final finish. The precision and care taken here are very important to the finished look of this custom made piece of jewelry.
5. Completed Custom Designed Ring and Suggested Maintentance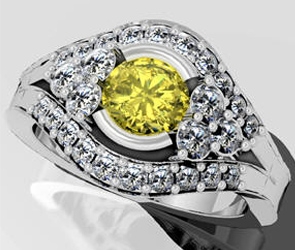 After the gems or diamonds are set the final finishing takes place. If the design permits, many people choose to engrave a personal message or date inside the ring. In white gold or platinum rhodium plating may be applied which adds a finishing white luster to the jewelry. If rhodium is used it must be refreshed as it is a surface plating that does wear off and will need refreshing.
Here at Melting Point we will professionally photograph and appraise your new jewelry piece. This is done to thank you for your business. We guarantee our work and the quality of the materials we use. However we do not insure you for normal wear and tare which always occurs after years of using your jewelry. We always suggest that you then insure your high value pieces of fine jewelry.
The most important thing you can do to keep your jewelry in good condition is to stop and see us at least once a year for a free routine jewelry checkup. We will check all your prongs to insure that stones are not loose and will suggest and quote on any repairs as needed. We will also clean and polish all the pieces you have purchased from us.